Tipperary Textiles are excited to announce the launch of our new & improved website. Along with the launch of new KAI & Ashley Wilde collections this October we announced our collaboration with Istyle which will introduce even more ranges into our collection.
Ashley Wilde Inspiring New Autumn/Winter 2022 Fabric Collections
Ashley Wilde launches an exciting selection of beautiful fabric collections with captivating qualities that are sure to inspire, for Autumn/Winter 2022. Innovative techniques have been embraced to create the range of unique fabrics with irresistible textures, hand-painted designs and unrivalled versatility, in a variety of rich shades that will suit any interior.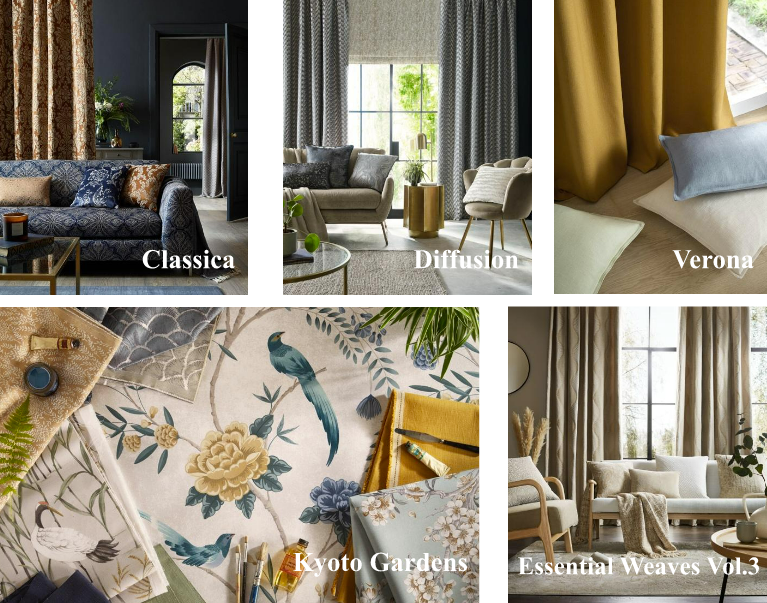 Classica is a traditionally elegant collection of luxurious contemporary satin jacquard's and printed velvet. Anzio, a large scale damask depicting scrolling leaves and stylised fruits, is complemented by smaller scale jacquards. Melfi, Medallion, and Ortona, feature unique hand-painted Jacobean designs printed on a luxurious velvet, perfect for upholstery as well as curtains. Available in a rich and indulgent colour palette, Classica creates decadence in any interior 
Diffusion
Inspired by natural forms, our Diffusion collection draws beauty from the world around us. Marble, rock and earth-like formations are translated into gorgeous and luxurious jacquards. From warm tobacco tones through to soft spa palettes and warm brass shades to midnight hues, these fabrics are a glamorous addition to any living space.
Verona
Verona, a collection of two stylish new plains; Loire and Finley. Loire, a natural linen, cotton plain, perfect to use in a broad array of applications, such as drapes, blinds and cushions. Finley, a beautifully tactile and soft chenille plain, suitable for drapes as well as also being durable for upholstery. Available in a broad palette, from elegant naturals through to brighter hues such as cranberry and peacock 
Kyoto Gardens
The Kyoto Gardens collection exudes elegance. Featuring beautifully hand-painted original artworks, digitally printed and available in an enchanting colour palette. Rhea, a sophisticated chinoiserie inspired print with intertwining branches, wild-flowers and intricately painted birds, alongside Alix, a trailing cherry blossom print. Harome, a statement print with Japanese red crown cranes meandering amongst the reeds is complemented by Amida and Kamiko, two beautifully tactile jacquards.
Essential Weaves Vol.3
Following the success of Essential Weaves Volume I & II, Ashley Wilde brings you Volume III. A collection of recycled jacquards, available in 12 diverse designs, from textures to geometrics. Consisting of versatile and easy to use tones such as champagne, latte and slate, Volume III is a timeless collection that is responsibly produced, without compromising on the superior standards of style or quality.
KAI New Exquisite and Inspiring Fabric Collections
Introducing the stunning new fabric collections from KAI, featuring exquisite and striking design details making this selection of fabrics truly unique. The exotic imagery and unique techniques fuse to form these inspiring patterns and textures into your home. These collections, with options suitable for upholstery and drapery, are sure to inspire and add a luxe style to any interior.
HEATHLAND
From painterly forests, hazy mountain scenery and delicate mushroom formations, Heathland brings the organic elements and textures found in nature to life.
Bark weaves are enhanced with metallic foiling, whilst the digitally printed metallic jacquard, Andorra, gives the illusion of embroidery. The dappled designs with reflective highlights work beautifully with the two co-ordinating velvets Koji and Whittle.
Heathland is offered in an elegant palette featuring sophisticated shades of Smoke and Ink, Shale and Fog, Clay and Bark and Moss and Oyster.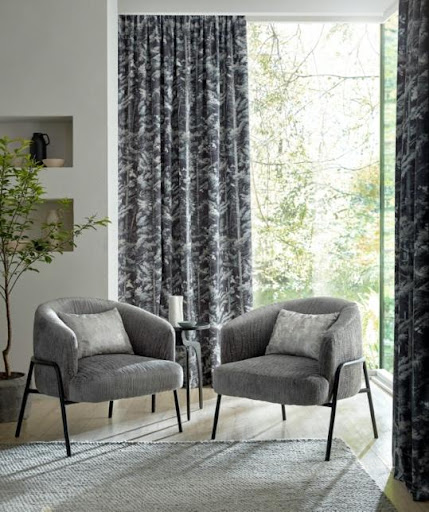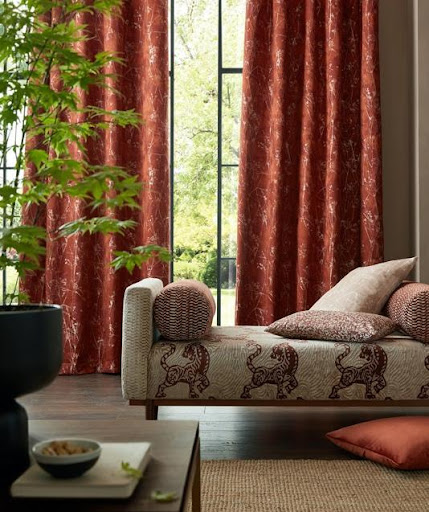 BOTANICAL ESCAPE
Silhouette floral jacquards, plush cut velvets and stunning embroidered digital prints are complemented by our sumptuous plain velvet, Koji. 
Kaida, an intricate multi-coloured cut velvet, features an iconic majestic cat motif which perfectly co-ordinates with Ren, a bold geometric upholstery alternative. 
Available in an array of contemporary tones including Olive and Oyster, Ebony and Brass, Emerald and Spa, and Paprika and Plaster.